Modern Inventory Management: QR Codes + NFC + Mobile Technology
Asset Tracking With Visual Documentation And Signatures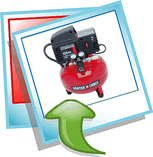 QR Inventory Images, Photos And Signatures Module
Document your assets transactions with photos. Use QR Inventory mobile application to take photos and collect authorized signatures, submit them as a part of an asset or inventory transaction. Add images for the inventory and assets - upload image(s) from your computer hard drive, or take photos with a smartphone.
Add Visual Documentation To The Asset And Inventory Transactions

There are a lot of situations when you may need to add visual documentation to the asset or inventory transaction. For example, if you are renting out or loaning assets, equipment or work tools, you may want to take a photo showing asset conditions at check out and upon return, to make sure that conditions are comparable or to document asset damage. If you are shipping projects to the clients, you may use photos as a proof that everything was packed properly. If you need to report equipment damage in the field, you can attach a photo to illustrate the problem.

Images, Photos & Signatures module allows you to do just that. Create custom transaction property(ies) of type image, and your employees will be able to use these fields to take a photo with a smartphone and add to the asset or inventory transaction. All collected images are available in the transactions history reports.

Collect Authorized Signatures

If any of your assets or inventory transactions requires an employee or customer signature, Images, Photo & Signatures module will allow an authorized person to review transaction and sign for it on the smartphone or tablet screen. The signature is uploaded to the cloud along with the transaction, and is available to view in the transactions history reports.

Add Image(s) To The Assets & Inventory

If you want to have one or more images for the assets and / or inventory, you will need Images, Photo & Signatures module. It will allow you to upload any number of images from your hard drive when you add a new item on the computer, or take photo(s) if you are adding a new asset or inventory item in the field using mobile device. You can also take and upload photo(s) for existing assets and inventory using a smartphone.
Take QR Inventory Tour QR Inventory Demo Get a Quote